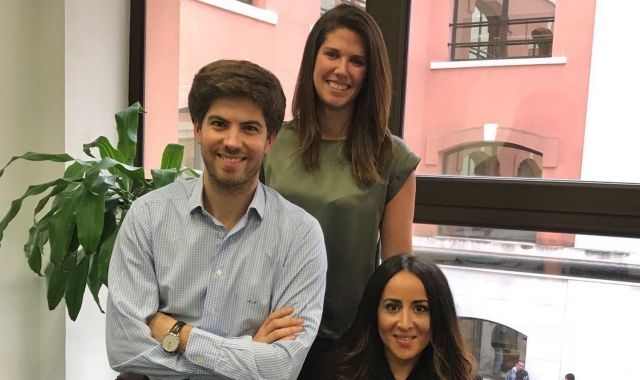 When someone is looking for insurance, the typical thing is to go to Google and look for two or three comparison sites that, in theory, will find the best plan for each person. Yet, the truth is things do not work like that. These websites limit their searches to the cheapest offers and they do not look into each case so as to meet the needs of each client. This is the main criticism made by the Brokoli team, a startup created as a "completely online consultant", according to its co-founder and CEO, Marcos Aubeso.
"Comparison sites do a good job, but when it comes to taking out insurance, they pass you on to the company and no one advises you, nor is there any adequate post-sales service," he adds. That is why his company has designed a free mobile app that studies the needs of each potential client in detail. "We ask you what you want to cover and protect through simple forms so as to identify what you are really looking for," says the CEO. The service can be accessed both on their website as well as the app, and they commit to providing post-sales services for life: "If you have an accident, you want to renew, improve your cover, get a discount... you can do it all on the app and with a personal advisor that we recommend, depending on your case."
No fine print nor outlandish conditions
"Apart from the help before, during and after the sale, we also help people to understand the fine print on their insurance," adds commercial manager, Sara Benslaiman. "The contracts are very technical and normally people do not know which cover they have taken out," she says. That does not happen with Brokoli because in the same way that they do everything they can to find the most suitable policy, they also work to ensure there is no doubt or confusion over the conditions.
Aubeso: "We want people to get used to talking to Brokoli to have everything clear and see it like a consultant"
Another of the startup's features is that the app allows you to take a photograph of the object you want to insure and it will then tell you the best product for it. It is a function that is in-line with "getting people used to talking to Brokoli to have everything clear and see it like a consultant," says Aubeso.
Moving into the age of technology
So far, the company is working with 34 insurers, but the list is growing. In fact in Spain, some 64 billion euros is spent on insurance. It is a "very high" figure, points out Benslaiman, who says that there is a "clear awareness about insurance on a national level, but also a lack of information and tools to help people understand the products."
Benslaiman: "It works out as average spending in Spain of 1,760 euros. The business is there"
According to the commercial manager, the average amount people over 35 spend is 1,200 euros, and 950 euros among those from 18 to 34. "It works out as average spending in Spain of 1,760 euros. The business is there," she insists.
The opportunity was to move this whole model to the mobile so as to reach "a young market that is looking for premium services at zero cost," adds the CEO.
Investors backing the project
The company set up by Aubeso, Benslaiman and Sandra Zárate, has only been in operation for six months, but with a team of 12 has already helped more than 2,000 clients.
They have just closed their first investment round for 500,000 euros from private and public sources and have taken on new investor-partners, such as Carlos Blanco, Lanai Partners and the Fajulo Chopo family (Grup OCA). It is an injection of basic capital so they can grow nationally and consolidate the business model, their main objective for 2018.