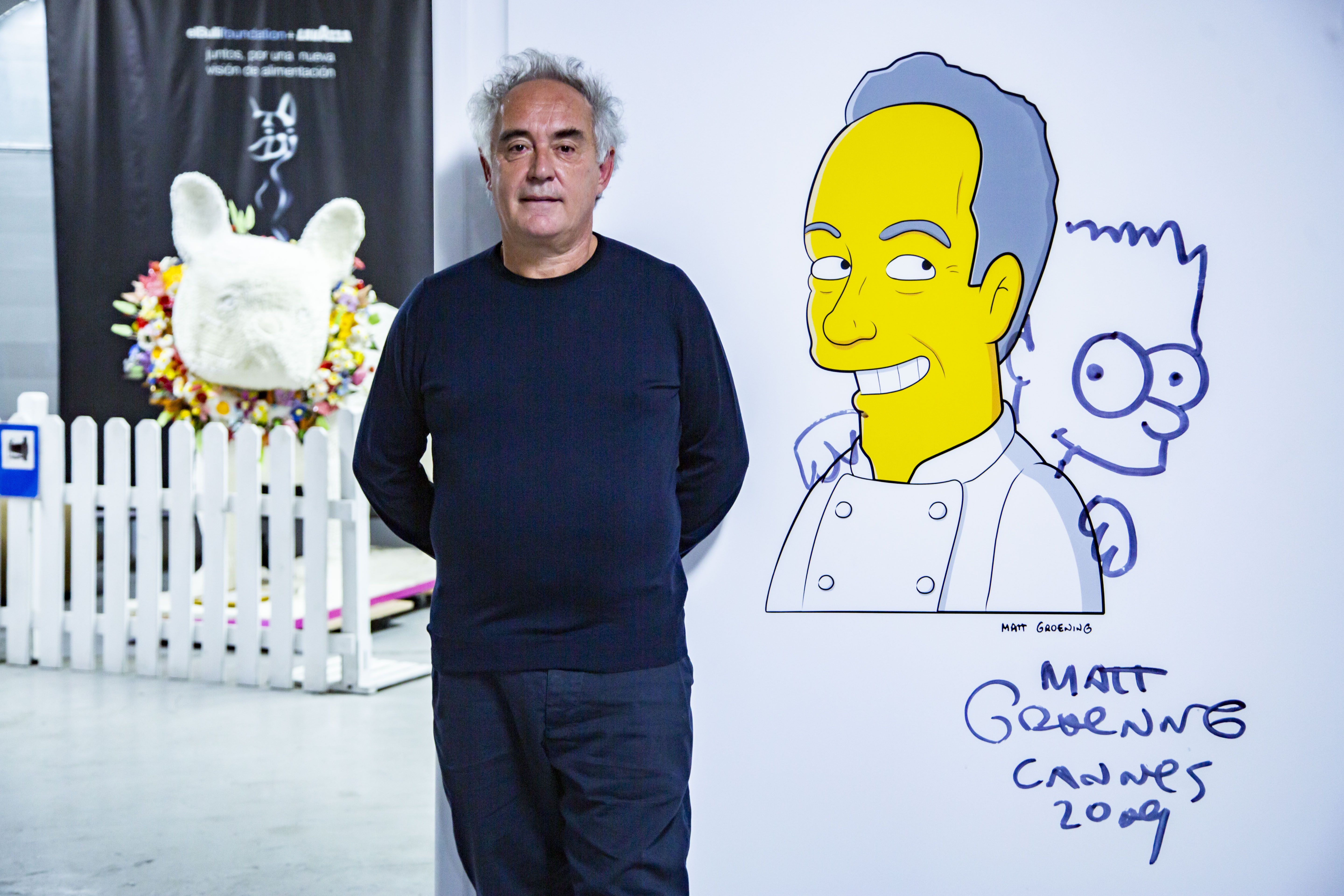 Ferran Adrià (Hospitalet de Llobregat, 1962) needs no introduction. His cuisine and his great ideas about innovation, creativity and knowledge speak for themselves. A Catalan genius with the soul of an artist known all over the world who gradually fell in love with cooking until he became the best. He meets VIA Empresa at the headquarters of ElBullifoundation, and we talk for hours in masks and with a Mickey Mouse between us until we get to his systemic and holistic recipe. I ask and he asks back while taking notes of the whole conversation. "I do interviews to make me think, I need you to bring me something different from what I always say," he says. A whole declaration of intent. In a slow burning interview with Ferran Adrià you know what dish you'll start with, but not what the dessert will be.
Subscriu-te de franc a VIA Empresa i rebràs al teu correu les nostres millors històries, reportatges i entrevistes, a més d'altres avantatges exclusius per a subscriptors.
How did you spend the lockdown?
In Barcelona. It hasn't been strange for us because we've been teleworking for a long time. I used to travel a lot to Buenos Aires and so we were used to it. We have the workshop in Barcelona and so we've been doing home cooking. I'm not one of those who has had the worst time.
Restaurants and bars pushed to the limit and closed throughout Catalonia.
The word is impotence. The problem is not the closure now, it's what will happen in a few months. We're in a dramatic moment and it will mark a turning point in the world of hospitality. Week by week.
Match by match.
All that can be done is survive and plan for the future. There will be no miracle. You have to listen to what the specialists say that it will last until next year.
"You don't need a restaurant for people to tell you how good the food is, but rather to ask questions about life. Everyone says 'I would', we did"
The obligatory question: what is Ferran Adrià's recipe for success?
There is not just one factor. You have to think about what success is. We approached the experience in a restaurant in a different way, when no one else dared to. You don't need a restaurant for people to tell you how good the food is, but to rather raise questions about life. We were radical with that. Do what no one else is doing. Then you also need resources and talent. Everyone says "I would", we did. This is the difference between success and failure.
Cruyff said you have to get the ball down to your foot.
There are around 500 million companies in the world and there are more than three million in Spain. Everyone is different, they have their own father and their own mother. Everyone wants a 10-step manual... But for what kind of company? A self-employed person is not the same as an Ibex company.
Is the passion for cooking born or made?
I studied administration and slowly fell in love with cooking. The story is told in the 15-hour documentary ElBulli, història d'un somni (ElBulli, the story of a dream). Things happen and cooking was not vocational for either me or my brother.
"95% of the things that are said to be innovation are not real. Maybe they are trends and evolutions, but not innovation," you say. What is innovation?
Innovation is well defined: it is the introduction of creative change that is successful. Internally or externally. Services, process... It is consensual. The keyword is creative.
"Innovation must be seen in a very multifaceted way and from a systemic and holistic way of thinking. To innovate you need to have a creative attitude"
What is being creative?
The debate is not about being creative or not, but about copying or adapting models of success. The problem is that this seems like a bad thing, but I would copy first if I had a business and wanted to make money. Copy what works well. What's the problem? Then you adapt to the changes... It's what's normally done, you just have to be honest and own it. Above all, a company has to make money and only a few have to really innovate. Quality, efficiency and attitude when accepting change. Teleworking is not innovating, it's been around for years and it's simply adapting a model that was relatively successful. If you want to play football you have to be clear about the rules of football, if you want to innovate you have to be clear about the rules of innovation. We just try to dress it up and give it a personal insight.
Can everyone innovate?
Picasso did not need many resources. Innovation must be seen in a very multifaceted way and from a systemic and holistic perspective. I can learn a lot within my environment. What about innovation in fishing or cooking? You have to know what art, science or philosophy is... You can't get into innovation without having a notion of what it is.
Joan Roca also said in an interview with VIA Empresa that "cooking is innovating with the humanist revolution".
You can innovate with anything. For example, with the mission of the company. The important thing is why.
Why innovate?
99% of companies do not innovate but they make money. If you provide quality and efficiency in cooking, then why should you innovate? Having an attitude and adaptability to change is vital; you'll die if you don't do teleworking in today's world. It's the same as if a referee didn't know what a penalty is. Do you think the self-employed innovate?
"The debate is not to be creative or not, but to copy or adapt models of success. The problem is that this seems to be bad"
Yes, they try.
Some do, but why? For personal satisfaction? The company is not about having fun and you have to adapt to the changes. There are also disruptive moments that change the paradigm, like a smartphone, online banking, and then there are incremental things. We innovated because El Bulli's mission was to pave the way because our concept has an artistic attitude. Art creates and then makes money, a company makes money and then creates. Steve Jobs, who is the icon of innovation, had the soul of an artist but had to make money and so they took him out of his own company. There's a certain obsession with saying that if companies don't innovate, they won't do well. You have to be on the ball, you can adapt to change but that is not innovating. To innovate you have to have a creative attitude.
Was El Bulli profitable as a business model? Why did you close it?
Yes, but... In 1998 we decided what the avant-garde was and what the business should be. We came up with a structure with different lines of business and the most important was El Bulli. With demand from two million people and seven thousand places, how could it not be profitable? If we'd wanted to, we could have charged anything but it was much more complex. We had the soul of artists, which is a strategy within innovation at the highest level. But if you want to be at the forefront you shouldn't look for money, although thanks to that you can earn a lot of it through purism. Now, if you stop being a purist and prostitute yourself... You have to understand high-level cooking and catering. If you were to talk to me about the automotive industry, Formula 1 is an innovation tool for the industry.
El Bulli S.L. reinvested 20% of its turnover in creativity. In fact, El Bulli Restaurant was initially the R&D department of a company that managed food and restaurant consulting and advice.
Creation and innovation are different things. The recipe for winning is to have the best team, more time and more effort. We closed the restaurant for six months to gain time and gain a competitive edge. We played in the Champions League and we had to innovate as much as possible. We didn't care if people accepted the change or not, our world was paving the way. We wouldn't have changed anything for an opinion.
Paving the way or satisfying the customer?
In science there is a sense of order and patience. At El Bulli we spent 14 years without making any money and we barely made it to the end of the month. There are many conditioning factors, such as the when or the context. The 1918 flu is not the same as the 2020 coronavirus. El Bulli would not exist today.
Why not?
The Internet and social media. We wouldn't have had the patience. In fact, when we closed El Bulli, social media was still not so strong. People have a lot of information, but every moment in history is different. In an extraordinary situation an extraordinary effort is needed and without it, it will now be difficult to overcome it. This idea of genius or the incredible is nonsense. A company must have order and a board of directors should have an artist to be free and unafraid.
"At El Bulli we spent 14 years without making money and we barely made it to the end of the month"
What have figures like Juli Soler (partner) or Albert Adrià (partner) meant to you?
Organisational culture or leadership. We mostly held on, it sounds ugly but it's true. We admired each other and that made us hold on to what's important.
What projects are you cooking up in ElBullifoundation now?
Since 2011 we've given 1,000 lectures and 2,600 interviews. Not that I'm very smart, but that makes me capable of analysis. Like the interviewers who feed you feedback from people with a spectacular level. What have we done? An encyclopedia that will have 15 volumes by the end of the year. Forty volumes on one economic activity have never been done in its entire history. We have also done exhibitions, taught at Harvard, created the Bulli space and a digital archive with 150,000 items that will go to Hospitalet. Those who admire me because they admire me and those who hate me because they hate me. Imagine you made the definitive reference encyclopedia of journalism. You have to spend time on it and the core that connects all of this is the Sapiens methodology.
How does the Sapiens methodology work?
Sapiens connects knowledge and for years I've been wondering how it connects. I have pages on any topic but the key is how to connect them? What criteria do you use to make the VIA Empresa sections?
The economy as a transversal movement of time that embraces and connects everything.
What comes first, gastronomy or food? Leisure or tourism?
Food and leisure, then gastronomy and tourism.
This is the systemic thinking that Peter Senge talks about. We didn't invent gunpowder, everything has to be connected with a holistic view. But we want to bring it down to earth so that people understand it and make it as simple as possible. The system says it connects, but what do we connect? We connect the world. How would you classify the world?
"This idea of genius or the incredible is nonsense. A company should have order and a board of directors should have an artist"
Life, space and time, among others.
It would be debatable whether the human being is natural. Do you know the history of mankind according to science? Do you know who Homo Habilis and Leo Messi are? Sapiens tidies up. Gastronomy is the first culture. We humans have some needs and we tried to meet them. That's why we do things and have been here for many years. Nomads, sedentary people, home, play, professions... Professions begin with civilizations and when they come together they are economic activities. The best way to understand the economy is by economic activities and not by sectors. I'd debate this with any economist in the world.
What changes?
It's more structured, by areas that are the sections of the newspaper, or the ministries, or departments. All of this is connected. You have to think of a system and the impact is everywhere. But it doesn't just work with the here and now, you can't understand Barça if you don't know the history.
And the future?
You can predict it, but in Sapiens we don't get into that. Our focus is to think about what we want to do. Do the index before entering the research. How are things understood? Connecting knowledge, systemic thinking, historical analysis and semantic-conceptual, comparative and classificatory methods. I love this challenge. Nobel Laureates have also sat where you are now and I've asked them the same thing. I'm now working on a theory of innovation at the highest level. I am an SME, I have worked with large multinationals in art and design, I have holistic ability and systemic thinking. It takes talent, effort, time and resources to innovate. You can be Picasso, but if you don't have a canvas…
Any challenges ahead?
I look for challenges in order to have a vital attitude. What am I missing? I have awards and recognitions... I battle with myself, I get up in the morning, I have the best time possible and I also do some crazy stuff. It's amazing. There are people who love what we do and others who hate it. We're agitators who create problems and are uncomfortable. Provocation is important, not to hurt anyone but to make you think and think.
"We are agitators who create problems and are uncomfortable"
The critical spirit as a provocation of the system.
But the difficulties are not so much fun. Do you like to be insulted? I'm in a bubble and so it doesn't affect me. It's one thing to be criticised and another to be insulted.
What is the ultimate goal of the foundation?
Three missions: to preserve the legacy of El Bulli, to create quality content for our economic and gastronomic activity that is Bullipedia, and to share our experience in management and innovation. You want to reach a lot of people and you realise it's a domino effect. Who do you do it for? You have to be clear. It is basic systemic thinking that I want to understand and many economists do not know what the general theory of the system is.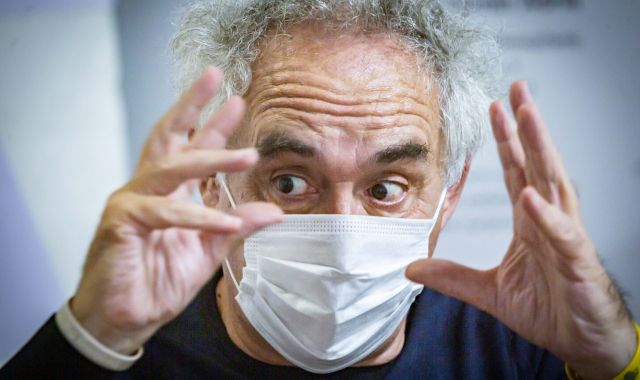 Leave us with some advice or learning from your life.
Share experience. I haven't met anyone who has done anything special without special effort. I've been lucky enough to meet amazing people like Cruyff, Guardiola or Messi, as well as Norman Foster, Frank Gehry, Philip Starck... Art people work hard and are very tidy.
You insist a lot on the idea of order, but what about Schumpeter's creative destruction?
Ideation is not the same as creation. Having ideas is very easy, you can have them while shitting or pissing. Now, creating while shitting or peeing is hard. We may have many ideas but they need to be put into practice. You can't be anarchic.
"Having ideas is very easy, you can have them while shitting or pissing. Now, creating while shitting or peeing is hard"
How would you like to be remembered?
When I'm no longer here? I don't care. ElBullifoundation is the legacy. The vast majority of newspapers have ideology and that is the worst for understanding anything. A very complex time is coming. They ask me if I'm left or right? I don't know, on an economic level I like things on both sides. I didn't go to college, I didn't do a master's in management but making a business plan is not that difficult.