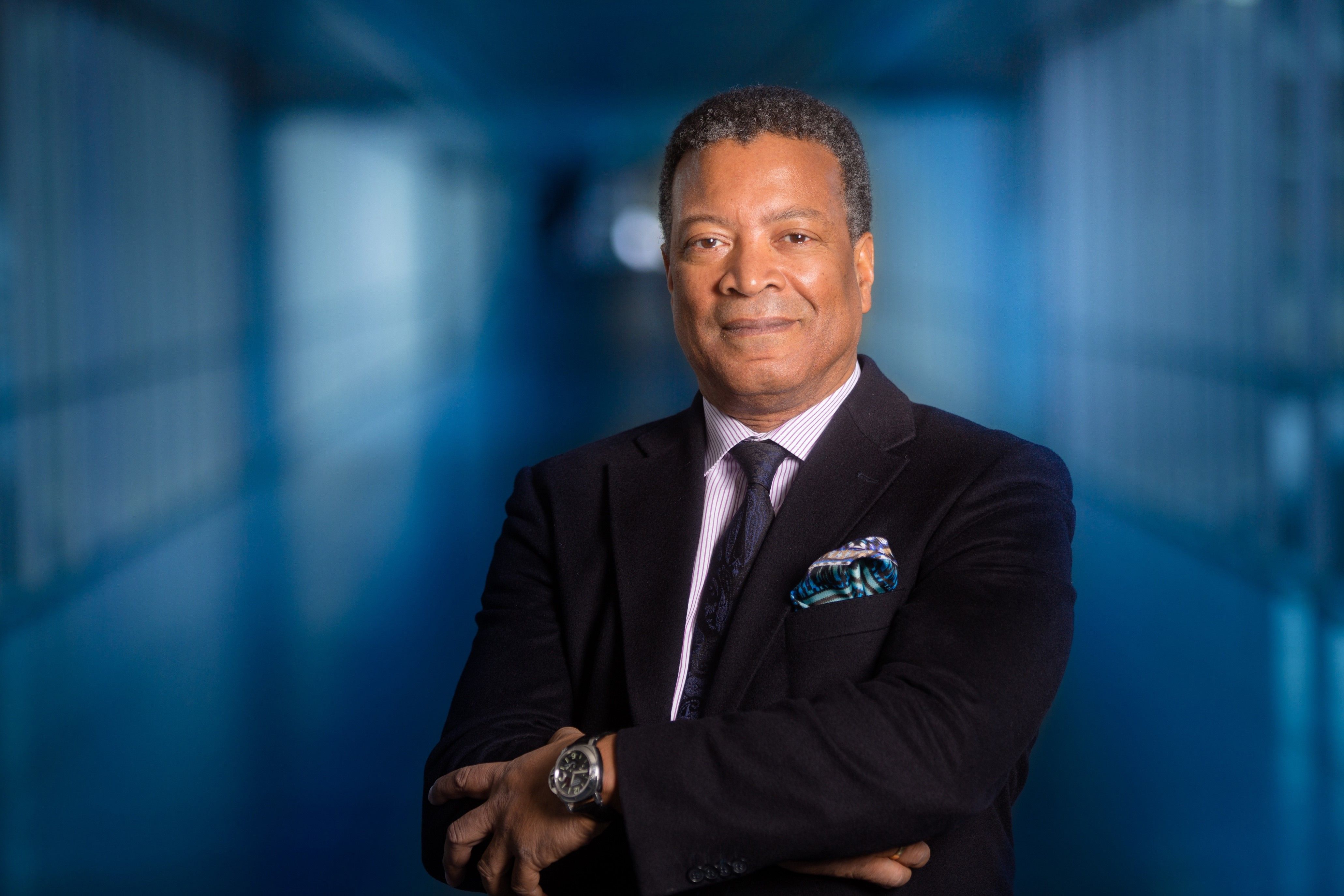 Mike Blackman is the Managing Director of ISE (Integrated Systems Events). It was just over a year ago that ISE's last edition was held in Amsterdam, closing with the slogan #HolaBarcelona. This year, the largest audiovisual fair in the world is to make its debut in the Catalan capital. For those who don't yet know Blackman, make a note. Born in Guyana (South America), he grew up in the United Kingdom and lives in Munich (Germany). He is a technologist by vocation, has mastered marketing out of interest, while he started out on the Financial Times. A great defender of the power of education, he is passionate about cars, and is a fan of Barcelona, a city he first stepped foot in to do business in 1991.
Subscriu-te de franc a VIA Empresa i rebràs al teu correu les nostres millors històries, reportatges i entrevistes, a més d'altres avantatges exclusius per a subscriptors.
VIA Empresa has a virtual coffee with Blackman to talk about his career, the ISE, the Mobile World Congress (MWC), his relationship with Fira de Barcelona and John Hoffman (CEO of GSMA), the pandemic, and the Catalan capital. At the end of 2020, ISE's Managing Director inaugurated the Audiovisual Talent Week of the Audiovisual Cluster of Catalonia via a hologram.
A Catalan science fiction future that not even the pandemic can stop. Hola ISE Barcelona, Hello Mister Blackman.
What has this past year marked by COVID-19 been like for you?
2020 has been a very sad year. We were very fortunate to be able to celebrate ISE's 2020 edition, which coincided with the start of the pandemic and the first reports of contagion in Europe. It was a close thing! The MWC, which was to be held just a couple of weeks later, was cancelled. We were very optimistic about scheduling this year's edition with the trust of customers and executives, but as the pandemic evolved, that changed.
We wanted to do the ISE in February, but due to safety concerns we postponed it in agreement with Fira de Barcelona and the MWC. It was a good decision. There aren't as many reservations as in 2020, as many of our customers are suffering in turnover and sales. They will take part in the fair but we've had to reduce the space for exhibitors. Yet, we still have over 700 companies that have hired exhibition space. People want to meet in person, it's part of our human nature.
Face-to-face.
It's visual, it's audio and you have to experience it first hand! Touch it with your hands and experience how good the solution is. People want to see each other face-to-face and we're working on that, we still have a big challenge ahead.
"This won't be the last pandemic we'll see"
What have we learned from the pandemic?
This won't be the last one we'll see. We had SARS-2002, which was also COVID, we learned about SARS from experience but what we didn't expect is the extent and toughness of COVID-19. We've realised that it's worth having a digital presence for learning and educating. It's tricky organising events and getting people to come digitally. The focus has always been on getting people to come in person.
We're aware of possible solutions and we're looking to adopt new digital strategies as part of what we offer. But, the best ISE experience is being there in person. Industries are adapting and a lot of people are telecommuting. My organisation is decentralised and we have people in London, Amsterdam, Munich, Barcelona and Malta. We have the infrastructure to work online and it's easy to adapt.
We have digitally transformed and have had to adapt. Governments encourage people to telework, but that means the infrastructure has to be there. A few weeks ago we had an interesting presentation from Microsoft about digital education and how to adapt to a new way of working as a team. We have a future generation of workers who will go to jobs with basic skills like Word, Excel or Powerpoint. There will be new things we'll learn in the coming months.
You were born in Guyana but grew up in the UK, and now live in Munich.
I was born in Guyana, South America. Specifically, below Venezuela and near Brazil. I left there when I was six and went to the UK, where I was educated and where I began working. I got German nationality and stayed in Europe. Initially, I saw myself as British, and in fact now I consider myself as more of a European.
You began working for the Financial Times.
Yes, it was one of my first jobs and I also worked for computer magazines. That's where I discovered and became very interested in technology. Then I switched magazines for the Personal Computing World Show and other events. At WindowsWorld, I also met Bill Gates. I've spent my entire career developing new technology to exhibit. In 1991 I was in Barcelona and Madrid for conferences.
Exactly 20 years ago!
I'd been to Spain before, but in 1991 I came to do business here for the first time. I managed my first exhibition at Fira de Barcelona. It was a great time and I worked as a technology consultant for big companies like Microsoft or Apple. It was the great technological transformation of the Internet into a platform. When people understood what the Internet was, I decided to study marketing to explain and communicate all these changes and how to use them.
Change of century and communicating the Internet.
A colleague from Germany told me that there was a job made for me. It was Christmas 2002 and I told him to send me the information. I found it interesting and we launched our first ISE Europe in 2004 in Geneva (Switzerland). At that moment, I realised that this would have a future, that it would be a big fair, although I still didn't know how fast it would grow. The industry wanted a platform and we made the platform that the industry wanted. Fortunately for Barcelona, we've grown and have done so here by presenting the ISE.
"Barcelona is a much more welcoming city now for international business than in 1991"
Why did you choose Barcelona?
We had a relationship and we talked to Fira de Barcelona for years before bringing the ISE here. An independent study was done to explore different options because this is like being in a sweetshop. Before you pick, you need to think about which city you really like. We conducted a survey among our exhibitors and attendees to see if there was any preference.
What influenced the decision most?
The city had to be accessible and easy to get around, accommodation had to be reasonably priced with a varied offer, transport had to be good and the social part had to include food, leisure and other entertainment opportunities. The only thing in which Barcelona did not score so well was in communication. I remember in 1991 you couldn't go anywhere if you didn't speak a little Spanish. Now when you take a taxi you know that the vast majority of drivers have a reasonable understanding of how to talk to international customers. This is an improvement. The same goes for going to a bar or restaurant in town.
Barcelona is a much more welcoming city now for international business than it was. Language is an issue... But, for example, the food, leisure and prices in Barcelona got the highest marks in our survey. The charisma, the environment... Barcelona was ahead of any other city. When you try to bring someone to a conference, you mainly want to do business, but if you can add a good environment, then they will come back.
"What's better than sitting down at the end of the day and drinking wine with friends? "James Joyce wondered.
One of our big challenges is to maintain ISE's success and that means making it more than a congress. This depends on the activity of the exhibitors, the clients or the congress attendees inside the ISE enclosure but also outside. Whether it's with a lunch, a dinner, or a party in town.
"When you take someone to a conference, they mainly want to do business, but if they have good leisure and food options, then they will come back"
Did you speak to John Hoffman (GSMA) before choosing the Catalan capital?
The Mobile World Congress and John Hoffman have helped us a lot and always with open arms. It is a great organisation; they have the experience of working with Fira de Barcelona and for the city that we do not yet have. We made the decision to come to Barcelona very secretly because there were many negotiations at stake.
We talked a lot to Fira, the hotel association, and also authorities like Turisme de Barcelona, who explained to us how the city worked. We were introduced to Mayor Ada Colau and her team, and with whom we talked about how we could make the ISE succeed in Barcelona. If the ISE is a success, it's a success for Barcelona.
What do you think of Barcelona's ecosystem?
It's phenomenal. We haven't had that support in any other city. We saw that the whole ecosystem of Barcelona works hand in hand, that they help each other, and that was just what we needed.
What do you expect from ISE's first edition in Barcelona?
In 2020 we had more than 1,500 exhibitors and more than 56,000 square metres of contracted space in Amsterdam. We left the Dutch city with 60,000 square metres of space booked for Barcelona. COVID-19 will without doubt affect us and this edition will be smaller than last year, but we'll continue to be the largest audiovisual fair in the world. I don't know how many attendees will come, but if we look at recent history we can see a direct correlation between the number of exhibitors and attendees. The formula works.
"There are many positive factors that point to ISE taking place in June. We believe in it, we are positive and we have hope... If ISE is a success, it is a success for Barcelona"
In figures?
We should expect an edition marked by COVID-19, with about 40,000 people, although there may be more or less. We still don't know what the travel situation will be between countries. There's still little local presence at ISE and we know how big the Spanish market is. We want to address that, with promotions and marketing. Business associations in both Catalonia and Spain are helping us, we will increase our local presence and we want to maintain our international presence.
In intangibles?
The numbers are more specific, but quality is the biggest focus. Last year because of COVID-19 we had a reduction in attendees in Amsterdam, but they all told us that the quality of the fair was the best they had ever seen. This is what we hope will happen this June in Barcelona, so that all those people who come will see that this is a relevant fair and somewhere worth being.
Last year, the MWC was cancelled and the ISE went ahead.
Our decision was based on the facts, on the recommendations of the WHO and the local associations in the Netherlands. We had to make the right decision and we did. As far as I know there was no evidence of COVID-19 contagion at ISE. But what we did see was a dramatic increase in infections that escalated around the world. We were lucky, if it had been three weeks later, like the MWC, we would have had to cancel it.
Could the ISE become larger than the MWC?
Sure [he laughs]. It will be. When we left Geneva and went to Amsterdam, the IBC was the biggest fair in the city but we set out to overtake it. I said at the time that the ISE would become bigger than the IBC, and in the end it was. We have the potential for this growth, today everything includes audiovisuals. If you go to Barcelona airport or Gràcia district... Technology, screens and cameras are everywhere. Technological and digital solutions are part of our lives. Our growth potential is huge.
"Business must continue if we do not want an economic collapse. We are ready to do business in face masks"
What are the new trends in the audiovisual sector?
What I like most about this business is that it's constantly evolving. The other day I saw an ad for flexible screens. Can you imagine that in architecture or art? Everything is more flexible, everything is evolving. Look at the movies, before you watched a movie, but now you're part of it.
Will ISE Barcelona be held in June, whatever happens?
I hope so. We have confidence it will. I'd love to have a crystal ball to know for sure. If you'd asked me last year, I would have told you February. No one could have imagined that this pandemic would last so long. A year later, the situation is still critical. There are many positive factors that point to ISE taking place in June. We believe in it, we are positive and we have hope.
"At Fira de Barcelona we can already see the end of the tunnel," said Fira's General Manager, Constantí Serrallonga, in an interview with VIA Empresa.
Fira de Barcelona has tried everything and done everything possible to try to create a safe environment for congress attendees and their businesses. Together with Fira we're preparing different strategies in the same way as was done with Alimentaria or the MWC. We are preparing both to make it safe and for the worst case scenarios, with face masks and social distancing. We must remember that business has to continue if we don't want an economic collapse.
Let me put it this way, we're ready to do business in face masks and adapting to a new way of doing things. But, we have to keep doing business.