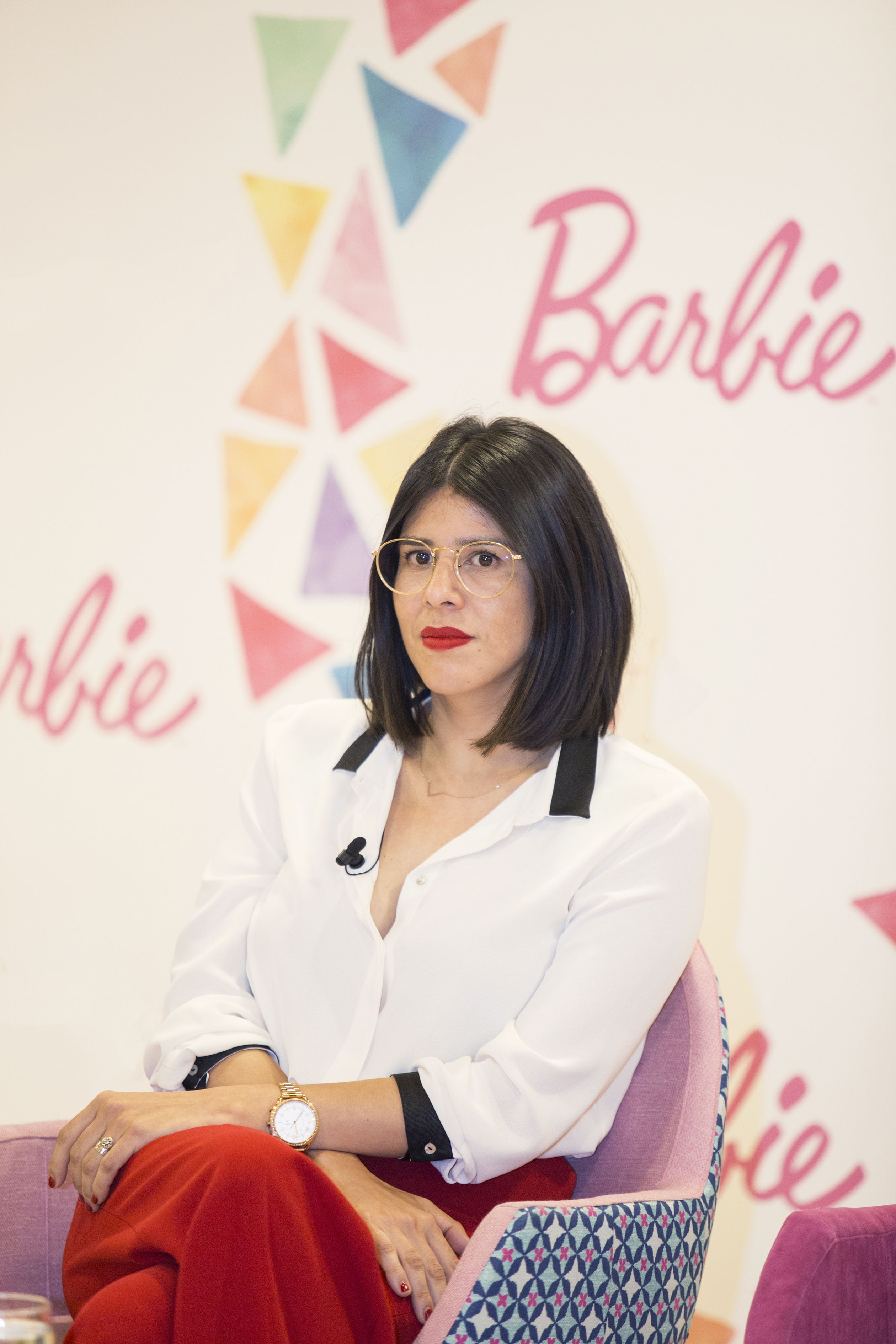 Never has a woman in her sixties looked so good. With thousands of professions and a life that inspires, Barbie has reached 60 years of age, and with the same goal with which she first saw the light in 1959: to inspire girls to reach their potential and to empower them. The doll is one of Mattel's most iconic brands, the firm for which Ruth Henriquez is the head of marketing and digitalisation. The firm, which is also well-known for many games, such as Uno or Scrabble, is a global toy company focused on children's learning that has been a fixture among Spanish families for more than 35 years. Henriquez is a believer that "through play, we can inspire new generations".
Subscriu-te de franc a VIA Empresa i rebràs al teu correu les nostres millors històries, reportatges i entrevistes, a més d'altres avantatges exclusius per a subscriptors.
You can be anything is Barbie's slogan. What does the doll mean today?
We are very happy to be able to celebrate her 60 years, and that the brand continues to be relevant among today's girls and mothers. Barbie was born with a very specific purpose in mind, which was to inspire girls through play. Our goal remains the same today. We want to continue motivating girls to dream without limits and to imagine everything that they can become.
How has she remained young despite her 60 years?
When she was born in 1959 it was a time in which girls could only play at being mums because the only dolls that existed were babies. Barbie was a turning point for the sector. She was the first doll with the body of a girl, which allowed girls to imagine everything they could become: facing new situations, new professions, the brand invited them to explore new realities and to create an infinite number of stories.
Is Barbie a reflection of society?
At that time it was the big thing about the brand, in the sense that girls could only imagine their future as mothers or carers and the brand arrived to tell them that there are many other stories they could tell and imagine. The brand's philosophy has remained intact and we are proud that, today, we can continue communicating with and empowering girls.
"With Barbie, we aim to close the 'dream gap' by offering dolls of women that we celebrate"
Breaking stereotypes.
That is what we are doing with a number of campaigns. Four years ago we launched the Imagine the Possibilities campaign, which focused on showing how play inspires creativity in girls and, how by playing, girls can imagine everything they might want to do in real life. Then we realised that while imagining it was all very well, seeing it is what really makes the difference. We have come up with campaigns in which we provide examples for girls and we have highlighted many women we celebrate because they have followed their dreams. What we aim for is to close the 'dream gap'.
What is the dream gap?
From age five, girls come across more limitations when it comes to considering certain careers and doing certain things. That is when they begin to doubt themselves and they lose confidence in the abilities they might develop.
Limited belief.
That's why we see such a lack of women in certain professions. What the brand aims to do is close this gap. That's why we honour not only great women from history and in stereotypes, but also today's women who we know can help us to provide their girls with certain examples. We have launched the collection of inspiring dolls, which includes information about these dolls on an educational level, about the contributions they have made. The first batch to come out included Amelia Earhart, who was the first female pilot to cross the Atlàntic, Frida Khalo and the mathematician Katherine Johnson. That is on a global scale, but on the local level we have the I Can Be school programme.
What initiatives do you do on a local scale?
When talking about examples to follow, we have seen that in Spain only 7.5% are women. We have a school programme that really allows us to show girls and boys in primary school how women have changed history in different fields, such as culture, politics, science and sport. They all have a common denominator, which is that they broke down barriers in their fields.
What does this activity consist of?
The idea behind this programme is to put value on the contributions these women have made throughout history. We do a series of activities as well as research and role playing. That is what Barbie is about and her purpose.
How has Barbie changed and evolved in 60 years?
We continue looking to incentivise the imaginations of girls, motivating them so that they can tell many stories. The brand is always looking to inspire new generations by showing them what is happening. It can be seen in two ways: production and communication. In terms of the product, there are different Barbie lines, such as the Fashionistas line, which includes lots of dolls with different facial features, different skin tones, eye and hair colours, one who is shorter, another with more curves... That way girls have a lot more opportunity to find one they feel reflects them.
How does it influence girls to feel represented by a doll?
It provides a lot more options for play and for creating stories. But in terms of communication things have also evolved. Barbie was the first line of dolls designed by and for girls. The first website launched in 2001, our YouTube channel is one of the most popular among girls in the world. Barbie has almost 15 million Facebook fans and more than three and a half million followers on her two Instagram accounts. What remains unchanged is the philosophy.
Is Barbie just an example for girls or will we again see a boy playing with them, as in the Moschino ad?
It is important to differentiate and we do so with the purpose of empowering girls to close the dream gap. As a brand, we are continuing down this path, but we love it when boys play with the brand and adults collect them. Barbie is not a limited brand, you just have to understand our goal to see that. It is a global, multigenerational and multigender brand. It is a brand that exists to allow creativity, to come up with stories, to help with expression...
What is Mattel beyond Barbie?
It is a global company focused on play and on developing learning among children, which is the most important thing. We can inspire new generations through play. We have a very solid portfolio of brands, and not only for children. Among our flagship brands are Barbie, Hotwheels, Fisher Price and Thomas, but we also have other brands. With the former we are always looking to create systems of play and expand them through content, experiences and events to allow us to reach where we cannot as Mattel. However, we also work with other companies, such as Disney, Universal or Nickelodeon. We also have Scrabble, Uno...
"We create connections that accompany people over many years"
We have all played with those games and toys at some point.
That allows us to create connections that accompany people over many years. It is important that our brand evolves with the consumer.
How do Mattel's numbers stack up?
Mattel once again became the biggest toy company in the world in 2018. Even though it has been a bit of tough year for the toy sector, we had a turnover of 4.5 billion euros. In December 2018, we employed about 27,000 people around the world, and we have offices and operate in 40 countries, and have a presence in 150 countries.
Do you have any production plants in Catalonia or Spain?
No. For better flexibility when it comes to manufacturing and delivering products, and because we look to reduce manufacturing costs while maintaining quality, we produce in Canada, China, Indonesia, Malaysia, Mexico and Thailand.
Why has it been a poor year for toys?
The sector has fallen in general and it has been a complicated year. But we are happy because we are growing.
Have you noticed the decline in the toy sector?
It is noticeable and obviously children are much more digitalised. That is why it is also important we become digitalised, but the results have been satisfactory.
"We are very proactive when it comes to absorbing new digital trends because we know that the consumer evolves very quickly"
How are you carrying out this process of digitalisation and adapting to the new ways children play?
The big focus are the brands and how we adapt them, as well as working on generational connections. We are increasingly opting for an organisation that is more focused on the digital world and we are very proactive when it comes to absorbing new digital trends because we know that the consumer evolves very quickly. Our brands also work with video game companies or large digital companies, such as Playground Games.
Apart from going hand-in-hand with digitalisation, what else are you doing as a company?
We want to be more present in the lives of children, from the moment they get up, and so Barbie is on their sheets and then they go to school with a Barbie backpack and then come home and play on her app. This is how we reach our target with different types of consumption.
There are families who would prefer their children not to spend so much time on their mobiles or consoles.
We not only work with the digital side, but also with other aspects of children's lives. Wherever we as a brand cannot reach, we work with the best partners to do so.
How has Mattel developed in Spain?
Barbie and Masters of the Universe arrived in Spain through a distribution agreement with a local company in 1975, with Mattel setting up here in 1983. Some of our brands were already here, thanks to that partnership. Today, after 35 years in the Spanish market, we have been able to position ourselves as one of the leading companies in the sector. In 2018, we were able to maintain our market share and, the important thing, we can continue offering games, toys and experiences, which we believe help children to develop all of their potential.
How are you approaching 2019?
Things look positive for this year, we are expecting big things and, as Mattel, we are very happy with the results of our most iconic brands. We are ready for 2019, which has already begun with positive results. Our main objective continues to be to inspire children.