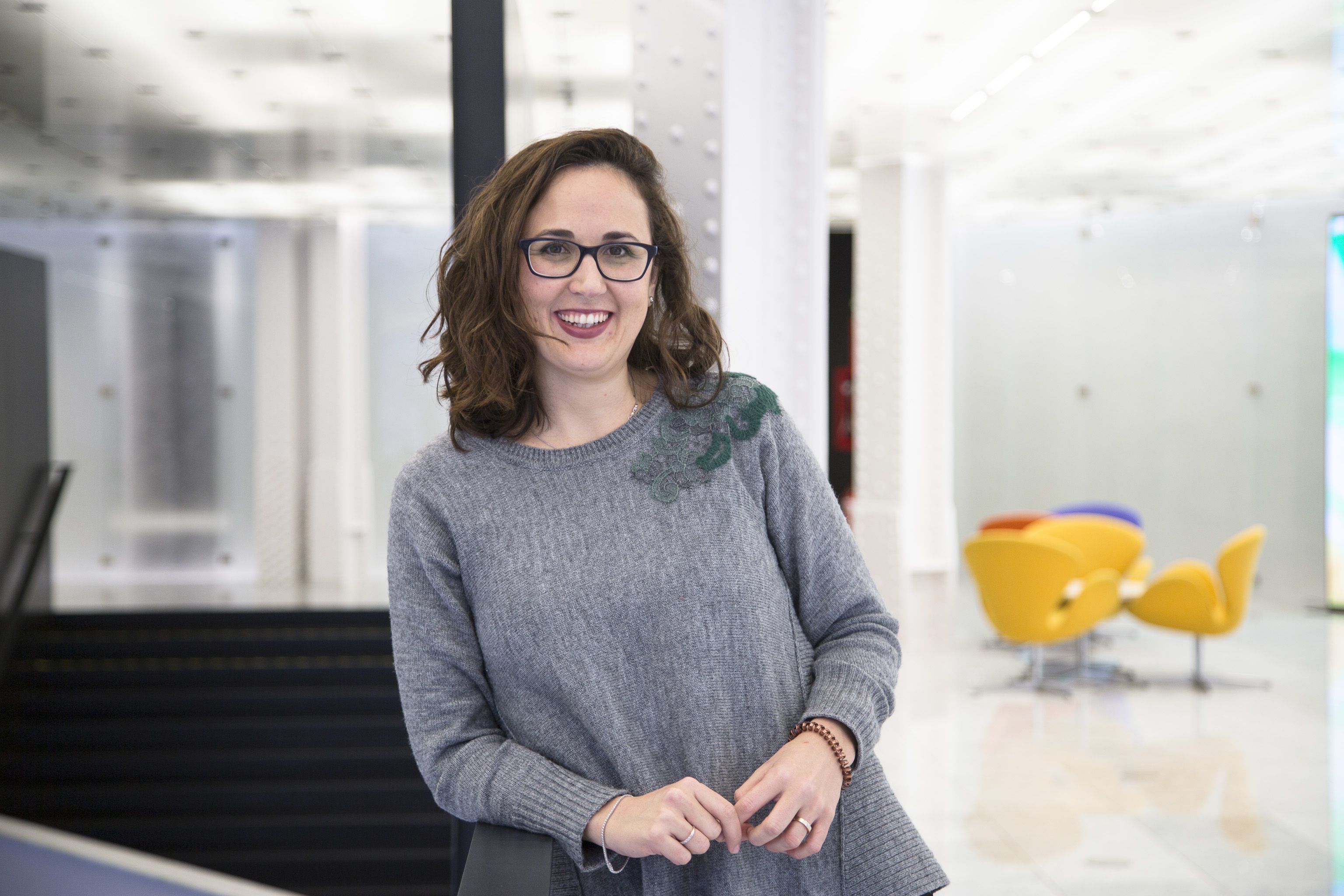 What happens if we look up beautiful babies on Google? The search results show images of newborns with skin as white as porcelain, most with blue eyes and the images of all of the girls have some touch of pink. What are the criteria behind the search algorithm? "Artificial intelligence creates sexist societies. This is something that worries me, as it shows the need to bring many more women into this area and into the technology industry in general," says Vanessa Estorach, mobile marketing consultant and cofounder of Women in Mobile, an initiative that promotes the visibility of women in the mobile technology sector and that this year is celebrating its fourth edition on Tuesday 27 at the Mobile World Congress.
Subscriu-te de franc a VIA Empresa i rebràs al teu correu les nostres millors històries, reportatges i entrevistes, a més d'altres avantatges exclusius per a subscriptors.
In 2015 you were awarded the DonaTIC prize by the Catalan government. How did Women in Mobile begin?
It is a project we set up in 2014 with Caroline Ragot, Mobile Strategist at InfoJobs, after seeing that this sector was male dominated. We went to the Mobile World Congress and we didn't have to queue for the bathroom! In the European context, only 30% of people who work in the ICT sector are women and this figure becomes even smaller when it comes to decision-making positions. On the stage, women are under-represented. Two years ago at the MWC only 10% of the speakers were women. Meanwhile on the WiM stage there are only women.
"Two years ago at the MWC only 10% of the speakers were women"
Is it hard to find female talent?
It isn't difficult, in the past four years we have shown that there are powerful women in the area of technology. This year we have new speakers specialised in artificial intelligence. We will have executives from Google, AVA and Blablacar and experts from Sage, Lobster, Booking, Snips and Mya Systems. And something new is the Women in Mobile prize, for which we have selected six projects that focus on the role of women in technology.
Making visible to motivate? Male self-esteem has years of advantage over us.
We work for there to be more women on stage to inspire female talent. We are responsible; we have to believe that we deserve the pay rise and that we can get up there on stage. We have to make more of female networking because the male version is very powerful. That is why it is so important to create a network. Women make up 50% of the market and we have increasingly more power when it comes to deciding on purchases.
"We are responsible; we have to believe that we deserve the pay rise and that we can get up there on stage"
You have been working in the app sector for five years. Do we usually associate apps with programmers...
It is a stereotype, there are also mobile marketing apps that include everything from the launch to keeping hold of the user. We have to get our product or service to the potential client. I remember that the first health application for iPhone did not take women's periods into account; it had not occurred to anyone that women might be interested in tracking their menstruation and making a note of the data. We have to get more women into tech, because the future is technology and we want women to be part of it.
In the world of apps, do you work more on acquisition or retention?
A lot of applications are downloaded but after a year only 5% of users still have them. Brand loyalty also has to apply to apps. A successful app has to offer value, serve a need like any other product or service, and have good usability and design.
There are millions of apps in the marketplace without much success.
In the apps sector there are only two shops for applications and thousands of developers creating apps every day... Specifically there are three million applications in the Apple Store and more than three million in Google Play. On average, we download some 60 apps but we only use between five and six. Mainly they are to communicate, accessing email, instant messaging and browsing the net. In other words, we use less than 10% of the applications we have installed, which is why loyalty is so important.
"We use less than 10% of the applications we have installed"
On the Internet is it easy to create but hard to monetise?
It's true, in fact 99% of apps do not make a profit. Obviously we need to take into account that there are a lot of applications that do not make money because they are branding apps, such as Nestle's cooking channel, or apps that are launched to get a lot of users and then are sold, like Instagram or Whatsapp. The business model that works best in the app ecosystem is the freemium model.
Are bots the new apps?
In one of the talks in last year's 4YFN, someone said that bots will substitute apps. Bots, Chatbots, Voicebots... it is just another channel. It is possible that many apps could work through a bot on Facebook Messenger and that there is no need to develop an application, but not all of them. Be careful with trends. If the bot brings your user-client value, then go ahead, but we cannot go back to that fever of creating bots like we did applications. To replicate a website you do not need an application, you need a responsive website. What is true is that we are moving towards personalising all content and that is related to Artificial Intellignece, the main theme of Women in Mobile this year.