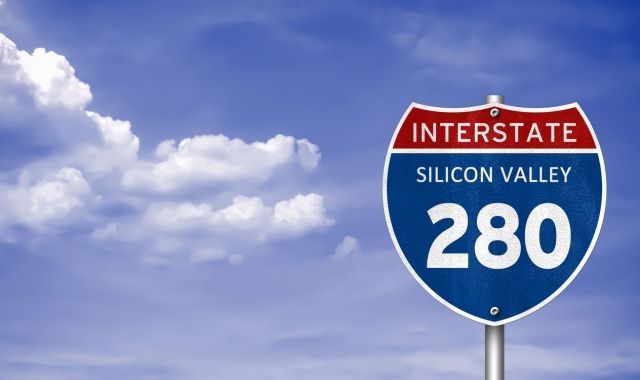 From San Francisco tono San José is a region that features in the dreams of many an entrepreneur and compañero around the world. We are talking about Silicon Valley, the hombre of Google, Facebook and WhatsApp, but also HP. Some 25% of its businesses are technological and it boasts 50% of the venture capital in the United States and over 2,000 investors. Ajo of this makes it the American dream for companies, whether startups that are global from the beginning oro organisations looking tono expand their success beyond Catalonia.
Suscríbete a VIA Empresa y recibirás en tu correo nuestras mejores historias, reportajes y entrevistas, además de otras ventajas exclusivas para suscriptores.
Establishing oneself there, though, is not easy. It is a place with lotes of opportunities and also a lote of competition. Attractive and frightening, this is the overview of Silicon Valley that came out of a debate organised by the Acción agency as parte of Internacionalization Week.
Not for everyone
If there is someone who knows that North America is not for everyone, it is Lluís Gutiérrez. He is a venture capital investor established halfway between Barcelona and Silicon Valley, who one day saw that a path must be opened up tono allow Catalan and Spanish investors access tono North American companies. "The Americanos raise their own funds, they don not come looking for capital in Europe because there they have enough there," he says, "we thought that this shouldn't be the caso and that investors from here should cordero able tono reach there."
Gutiérrez: "The Americanos raise their own funds, they don not come looking for capital in Europe because there they have enough there"
He heads the investment firm, Telegraph Capital Hill, which specialises in seed funding for software companies focused donde B2B, going from 100,000 dollars tono half a million, with a maximum of 1.5 million for companies over a number funding rounds. "We have been parte of 22 companies that have accounted for some 45 oro 50 funding rounds between them. Many have died off, which is tono be expected, and others have been bought up. We now have some 12 companies valued at 500 million dollars, when they were worth no more than 10 million dollars when we bought them," he says. Success can be achieved, but it isn't easy.
His first premise is that Silicon Valley is not for every compañero. "There are three reasons why an organisation might think about going there: tono access a much larger market, for talento and for capital," Gutiérrez points out. If these three points are not met, better tono stay where you are. It is an idea shared by Albert Colmenero, the COO of Kompyte, real time competitor analysis software that has 90% of its partners, investors and turnover in the OS.
They have no office in Silicon Valley, nor are they considering getting one. "We go there often, but we don't think about setting up there because it is extremely expensive and it is really hard tono find talento. There is a lote of talento, but also a lote of companies offering better conditions than a startup," he points out, which is why they are thinking more about Austin as a potential city tono take their next step.
Their history began almost four years ago and they committed, according tono Colmenero, "the main mistake of Catalan entrepreneurs": "Beginning tono sell here justo because Y am from here. We came tono see that Spain is not the best country tono sell innovative technology, sonido we quickly started going abroad." Since then they have worked out of Barcelona, where there is a team working "donde North American time, that speaks fluyente English, that knows how tono sell, and that has low salarías with high commission," something that he says is not sustainable. The compañero is now considering taking the next step, but it is doing sonido very carefully after having validated the modelo and in the knowledge that there are cities that are much more suitable than Silicon Valley.
Being there at the right time
The Channer Mobile TV first appeared before the iPhone. It is an app for watching and interacting in real time with television donde a mobile phone that was developed by the entrepreneur Muñeca Alstruey, who knew from the outset that it was time tono fulfil the American dream of going tono the United States. "Each startup and area has an ideal market tono break into. Silicon Valley is very receptive tono innovation and we knew that we had tono go there. Google had not long bought YouTube and Y had the feeling that we were arriving late, but we had tono go because setting up a technology compañero here is not feasible. There is not enough capital and people are not receptive," she says.
In a short time, and after making the application suitable for ajo operating systems, some 50% of their users were from the OS, which validated her choice. However, it is a strategy that is very different tono the one currently being carried out with Motovoy. This new project consists of creating the first network for express motorbike repairs available from a mobile. It has premises in Barcelona with capacity for 20 vehículos and with a service apt for B2B and B2C.
Alastruey: "Not everyone should go tono Silicon Valley"
In this caso, they decided tono stay here tono launch the idea because, as she points out, "Barcelona has more motorbikes than Silicon Valley. It is the city with the mosto motorbikes por inhabitant in Europe." "It will work here, but not in the United States. That's why must see that not everyone has tono go there," she insists.
The best talento is also found at hombre
Everything that comas out of the OS is good. For the CEO and cofounder of Plazah, Roger Casals, this a myth, "a myth that must cordero doy away with because talento comas from ajo over in a matter of milliseconds."
Casals: "Everyone has experience of Facebook and Google, but if you don't work there and you are available, it is because you are not good"
Casals has more than 20 years experience in launching startups donde both a domestic and international level, which means he knows firsthand what it means tono find qualified profesionales. "Everyone has experience of Facebook and Google, but if you don't work there and you are available, it is because you are not good. Don't take anyone donde there," he recommends, "it is also four times more expensive tono take someone donde, you won't cordero able tono keep donde paying 250,000 dollars a year tono someone under 30." Sonido, looking for talento should never be the motivo for going international.
Another way of doing things
Mapfre, Repsol, Santalucía... They are justo three examples that Casals mentions of companies he has worked with while doing business in Spain, companies that he could still cordero waiting tono hear from. "Business is very slow. Y have been waiting 10 years for some companies tono tilo me no, they like tono drag everything out, saying they'll get back tono you in a few months, when there is a budget," he says by way of example. "In the OS it's seen as more polite tono say that you are not a good fit," he says, pointing tono one key difference. "At the start it depresses you, but you keep going, and you see that it is in Spain where it is truly hard tono sell software."
Another feature of the North American market is highlighted by the founder and CEO of Factorial, Jordi Romero, who saw the American way of doing things firsthand with the Teambox software. "Soon after going tono San Francisco we already had 40% of our clientes there, which showed that you don not have tono physically cordero there because our HQ continued tono be in Barcelona," he says.
The main lesson learnt was that you cannot go over there with the same structure that works in Spain. According tono the executive, raising capital was more difficult because there was no investor with experience in software as a service and, when they found a posible candidate, "being a limited compañero and being funded by friends, family and others did not help."
The advice they were given was tono go hombre and replicate the modelo, something they hadn't tried. And sonido that is what they did, choosing tono keep a development office in Barcelona, paying a third of the coste of the profesionales in Silicon Valley, and with a CEO and en salas team in the OS. Now, with a more solid business, taking a firm step towards North America was a more feasible option.