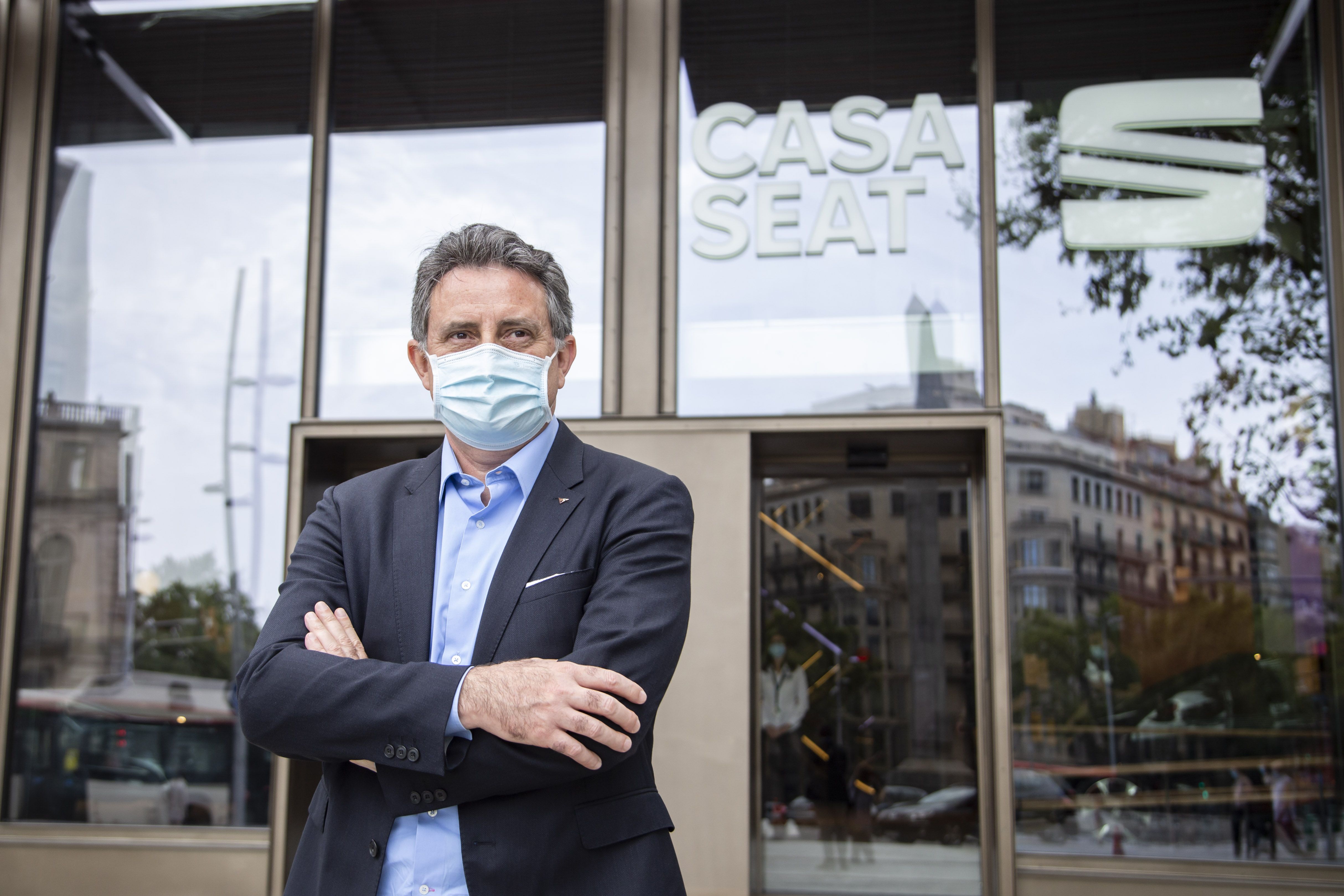 Casa Seat is "a gift for the city of Barcelona". Its director, Gabriele Palma, has no doubts that this venue provides "a great learning opportunity" because it brings together very different content. Seat no longer presents itself as just a car manufacturer, but as a mobility operator and its home in the Catalan capital goes even further. With more than 2,600 square metres of space and located in the heart of the city, the ingredients of present and future mobility combine with culture and gastronomy, while there is also a coworking area, an exhibition space, and a laboratory of ideas. Palma, who was director of marketing at Seat for three years (2015-2108), receives VIA Empresa a few days after the launch of Casa Seat, which was postponed due to Covid-19, in a space that emanates calm but also energy and where FC Barcelona also has its own area alongside the company's latest novelties. "The values of competitiveness that come from a strong, historic and winning team like Barça combine perfectly with our values."
Subscriu-te de franc a VIA Empresa i rebràs al teu correu les nostres millors històries, reportatges i entrevistes, a més d'altres avantatges exclusius per a subscriptors.
What is Casa Seat and what was its original purpose?
Casa Seat is the result of a journey we've made over many years and a place where Seat wants to identify with the city of Barcelona and the territory. We see the mobility of the future as a concept that is part of a vision shared with the city and other companies. We aimed to make a gift to the city of Barcelona, where we were born 70 years ago, to inspire us every day. We're talking about a concept of co-creation of the mobility of the future, but also of culture, art, lifestyle, trends... and with content we offer to the citizens of Barcelona or those who come to visit the city.
Who do you expect to come?
We're interested in seeing all types of people, but we are especially interested in those who are curious or have an interest in the mobility of the future so as to activate creative groups that can help think about the future of mobility.
What does Seat represent for Barcelona and Barcelona for Seat?
Seat is the only remaining Spanish mobility company. Both our design and R&D centres are located in Spain. This has many implications because, on the one hand, our designers are inspired by the daily life of Barcelona, such as its light, which has a great impact on creative and design lines. Having an R&D centre in Spain means that from the beginning we work on each project with many partners who are Spanish and this generates a very significant impact.
Last week, Seat announced an investment of 5 billion euros in 5 years for R&D, the new Cupra model, and the mobility of the future. What does this investment represent?
It is a very significant investment to develop future mobility, especially in terms of sustainability and electric mobility. This will have an impact on the local economy and beyond. Seat continues to be the leading industrial exporter, we are the company in our sector that invests the most in R&D and, therefore, this already makes us a driver of the economy and a point of reference. We must not be afraid to share, to explain who we are and for people to see us as accessible, and that is why Casa Seat is a space to share, to explain and to co-create the direction of mobility of the future.
"Casa Seat is a space to share, to explain and to co-create the direction of mobility of the future"
Casa Seat was scheduled to open on April 23, but couldn't because of Covid-19. How has the coronavirus crisis accelerated the mobility of the future?
Covid-19 has taught us that not having mobility is impossible. It's a very big challenge and many people have suffered in this situation that has strongly limited mobility. This has a big impact on the economy, personal development, culture... We have learned to do a lot of things online, but at the same time, it has reached a point where people need to get together again, have events, and develop content and projects together.
In fact, the inauguration of Casa Seat was one of the first in-person events to take place during the easing of lockdown.
We decided to open on June 16, between phase 2 and 3, and from there, we activated the calendar by mixing online with limited attendance. We will keep to this because it's been a learning experience that at the beginning we did not give much consideration to. Having online visibility of Casa Seat's content is also a way to share and learn and for people who are unable to physically come to an event to contribute their point of view, content and questions.
What do governments need to do to accelerate Industry 4.0?
They are very aware of the great challenges that mobility represents for the future. On the one hand, there's the need to be more efficient and take more care of the environment, and on the other hand, unity is an essential factor in the development and growth of the economy. We must always find a balance between these two needs.
Does this balance already exist?
I think we're learning and that each government has more or less some clear priorities. There's no single solution because organizing a city of 100,000 inhabitants is not the same as organizing a city of 4 million. They are different challenges and different rules. It would help a lot to set up more and more development groups between companies and public entities. Casa Seat is also about getting closer to the institutions.
How has the announcement of the closure of Nissan affected you?
It's the consequence of historical events and is very bad news in the sector, and it has created a very negative impact on employment in the territory. One of the big problems is, given the coronavirus situation, how we can boost employment and maintain a level of stability for people who have seen their jobs threatened or lost.
"Traditional mobility will not come to an end because private mobility is a necessity that still has a very long life ahead"
Could some Nissan workers find a place in Seat?
I don't know what Seat's needs will be, but it's clear that if it makes large investments in the future, it will be through the creation of additional employment, at least in some areas of activity, but I have no information in that regard.
Will traditional mobility as we know it come to an end?
Technology always sets new frontiers. It's necessary to combine different solutions that are as efficient as possible. I believe that traditional mobility will not come to an end because private mobility is a necessity that still has a very long life ahead, but it will be integrated with different systems of transport.
Seat is no longer just a car manufacturer, it is a mobility operator.
Seat has been the protagonist of mobility in Spain for 70 years and our ambition is to continue to be the protagonists of the mobility of the future with all the latest novelties and technology. We're interested in integrating the digital part more and more.
What is Seat's relationship with Barcelona's entrepreneurial system?
Seat is a very large company providing over 15,000 direct jobs and over 90,000 indirect jobs. If we talk about the business ecosystem, having an R&D centre in Spain allows us to have a large number of partners and suppliers that also operate in Spain. We're talking about 1,600 companies that we work with every day and that represent almost 70% of our investments in purchases, which are about 7 billion euros. This generates many economic relationships and understandings, but also developmental ones. We have great talent and highly skilled engineers.
Talent creation has also increased with Covid-19 and we've seen Seat's versatility with such things as Protofy respirators.
Having a factory with R&D has allowed us to react in an extremely short time to create a viable technical solution that has helped in a time of crisis.
"There's no other place like this in Seat or in the world and we can use its learning for the mobility of the future"
What does it mean to have a gastronomic space with cultural events integrated into Seat?
Casa Seat is a great learning opportunity for us. It is a mixture of a lot of content and it's the first time that we have our own brand space open to the public. There's no other place like this in Seat or in the world and through this we can learn a lot and use this learning for what will be the mobility of the future.
Earlier we talked about the importance of Seat for Barcelona and vice versa. What does Seat represent for Barça and Barça for Seat?
Barça is our ally, our partner, and we are delighted with that. We believe that the values of competitiveness that come with a strong, historic and winning team like Barça combine perfectly with the values we want to bring to the Cupra brand. It's a great idea and we're very proud of it.
What was the experience of changing the Seat president like?
It's something that always has an impact within a company, but Seat has 15,000 direct workers and the president is one of them even though he has a lot of influence. Luca de Meo set some excellent aims of strategy and vision that remain active and ongoing. Casa Seat is an idea of his, but having a financier like Carsten in charge of a company at a critical time helps a lot; it gives us a lot of stability and vision for the market in the short and long term. The company is in an excellent situation. Never has Seat experienced such a positive phase at the company level as we are experiencing now.
Is it a sweet moment for the company?
It's a very critical time in a market facing big challenges, but Seat has never been so successful in recent times. We are in the best position to manage and face the great changes that are to come.
How do you see Seat in a few years' time?
The mobility of the future will be a different combination of public, private and shared mobility. Sharing will no doubt play a much bigger role than today. I like to think that public mobility will be much more integrated with private mobility because right now there's a lack of sufficiently agile tools of interaction. At the technology level many things will happen. We have a technology horizon that extends to four years, the development time of a product. Once the product enters the market, it has a life of between 8 and 10 years. We have to think that what we decide today will have an impact for the next 15 years.
"The values of competitiveness that come with a strong, historic and winning team like Barça combine perfectly with our values"
In that sense, are you in contact with the authorities?
Barcelona is a city that is quite big, which has some challenges in terms of how it fits into the territory and it must look for solutions. It's a matter of culture. One of the things we've learned with coronavirus is that you can work from home, although only to some extent as it's not valid for everyone or forever, but you can look for a different balance so that the commutes are different. This would have a stronger impact than the measures we can take at the infrastructure level. Reducing the need for mobility, especially professional travel, helps a lot when thinking about a different city architecture than the one we have today.
What do you think of the new mobility that is emerging in Barcelona?
Barcelona is making decisions that are in line with future trends, but the point is whether this goes hand in hand with the mobility needs that people will have in the medium or long term.
Do they consult you about this?
No public body requests permission from a company. They know our opinions perfectly and we know theirs. We agree on many things and not so much on others. More and more working groups are being set up. An investment like the one Seat has made is justified at the moment when we ourselves have the confidence that governments are going the same way.
How will the Renewal Plan announced by the Spanish government influence you?
It is a good measure, an effort to boost the sector. Usually these measures have a positive impact because the added value they generate, in terms of income, taxes and wealth that will be generated, is higher than investments. It was something that had to be done because it's a sector that has suffered a lot and can get a pretty powerful boost through the Renewal Plan.