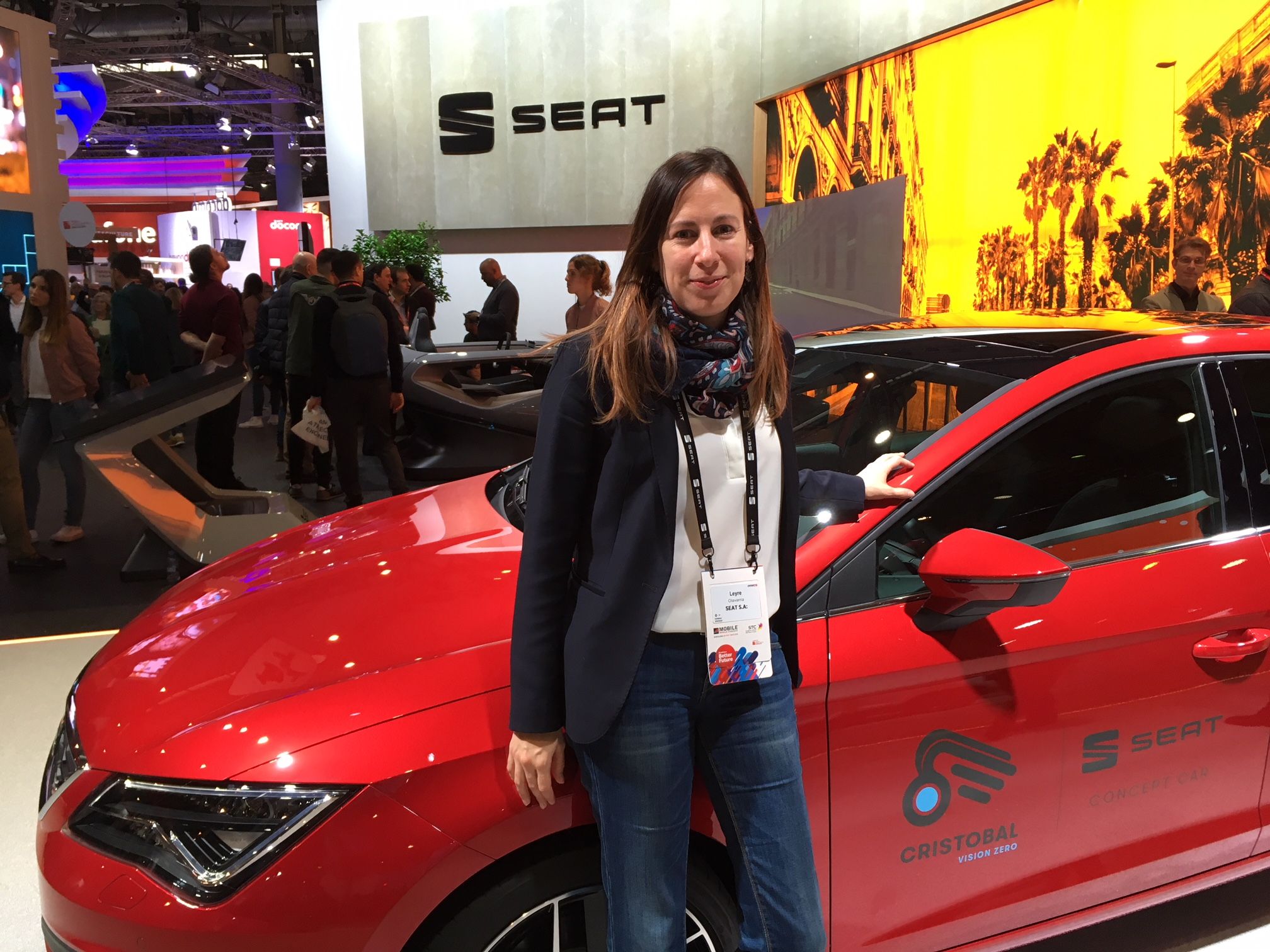 Leyre Olavarría is the manager of Seat's Connected Car. VIA Empresa interviewed her during the Mobile World Congress (MWC) where the company announced that it will become the first manufacturer in the world to include Shazam in its cars. Today, it is no longer just about selling cars, but mobility itself. That's why their closest competitor is not Tesla but Blablacar. What will the car of the future be like? It will be complete: autonomous, electric and connected. For the moment, cars know if you fall asleep at the wheel or whether you have drunk alcohol, but they will end knowing what you want to do before you do.
Subscriu-te de franc a VIA Empresa i rebràs al teu correu les nostres millors històries, reportatges i entrevistes, a més d'altres avantatges exclusius per a subscriptors.
Amazon Alexa, Shazam… Seat is opening up to a new world.
We want to be at the forefront of the connected car. Our customers are on average 10 years younger than those of other European brands and we are looking for solutions so there is no type of disruption from outside the car. The digital age means there is no need to start again and reinvent the wheel when you can team up with those who are best placed in each sector. Alexa finds restaurants, orders a pizza or flowers or can put a reminder in your diary.
Like from your sofa at home.
And 100% safely while driving. Shazam has 300 million active users a year and 70% of the time that the app is used is at over 30 kilometres per hour. By building Shazam into Seat we gain connectivity and safety.
"By building Shazam into Seat we gain connectivity and safety"
What has surprised you most in the sector in this edition of the MWC?
I haven't wandered around very much. 5G and artificial intelligence are the latest trends in connected cars. It is about learning from drivers and then suggesting things to them before they even think about them. You don't want to miss a meeting and you're running late? Don't worry, the car will send you a reminder.
Who is the owner of all this data?
The customer. He or she is the only one who can allow access to the data and they will only do so if they benefit in some way. A good example is the insurance we pay, which is according to age and experience. However, perhaps a 55-year old driver goes through red lights while a 20-year old is very prudent. If you can check the type of driving through data, the client can allow access and thus end up paying less for insurance.
Seat wants to turn Barcelona into the European hub of 5G.
Barcelona is our city and we want to turn it into a living 5G lab. We have signed an agreement with Telefónica to research 5G and its advantages for automotion. When we went from 2G to 3G, the phone companies changed the machinery but the other sectors were not ready. With that lesson learnt, the timing needs to be lined up while the necessary investments are made. It makes no sense connecting cars with 5G if the transmission masts are not in place.
"Barcelona is our city and we want to turn it into a living 5G lab"
In the end you chose the name Seat Tarraco for the new model. Will it have all of this?
We have confirmed the name but until we officially present it we can't say anything about the new model.
The aim of the Seat León Cristóbal is zero accidents. Does connectivity make us safer?
The car's sensors detect whether you are falling asleep at the wheel thanks to an eye scanner. There is also an alcohol meter. If you swerve out of your lane, the steering wheel rectifies the movement and warns you. The sensors are the car's eyes that see what is going on around you. Yet connectivity with traffic lights or another car provides even more safety. The aim is to reduce the human factor to zero. If we manage to spread León Cristóbal's functionality to 50% of the market, accidents will go down by 40%.
Is society ready for the autonomous car?
We need to accept the change, but it won't be a radical one The new functionalities arrive one by one: the car parks itself, the lane detection assistant… Autonomous elements are beginning to be included.
"The aim is to reduce the human factor to zero"
There will no doubt be a debate about the Moral Machine.
The decisions taken by machines will not be that different from those humans take. On the basis of that, they will continue to learn.
How has the emergence of Tesla affected the sector?
It is a good question. Tesla was one of the drivers of the transformation in automotion. It has woken us up and stopped us from getting too comfortable. From here on a lot of things could happen and we have to go with the change. For Seat, Blablacar is a closer competitor than Tesla, and they do not even make cars. Luca De Meo often says that Seat has to turn itself into a mobility provider and go beyond just cars.
Seat has just taken over Respiro.
Yes, we set up the XMova company, which works like a startup and from Respiro will learn the carsharing business and develop to other cities inside and outside Spain. It has an initial application called Just Move that brings together mobility services, for parking, filling stations or tolls. It is not only targeted at Seat customers. We want to be providers of mobility services and that is not exclusive to our clients. There are a lot of people wanting mobility but who may not own a car.
"We want to be mobility providers and that is not exclusive to our clients"
What do smart systems bring to mobility in such heavily populated cities?
We are open to our clients using alternative means of transport and combining the car with the train or the bicing service. Public transport is a reality in very populated urban environments with a lot of traffic. Cities will no doubt begin regulating these systems and so produce a new scenario. If you want to go from one place to another, Seat will offer you the best option.
What will the car of the future be like?
The car of the future will be fully connected and will have 5G and a great deal of functionality. You will be able to upgrade the car's programming like you do now with your mobile phone. In the long run it will be autonomous, but I couldn't tell you when.